Covid-19 Update June 15, 2020
Our childcare has stayed open throughout Covid to be able to meet the essential needs of our enrolled families. Over the last few months our focus has been on the safety of our children and their families. I would like to now take time to update this website and share with you some information about our care and the steps we have taken to stay healthy.
♥ Thank you for taking the time to look further into our environment and the adaptations we are making during these unprecedented times. My goal is for all families to feel safe, respected, and comfortable when joining our childcare family. Please reach out with any additional questions.
Megan Hanshew
619-474-0813
megan@cuddlesacademy.com
As you can see in our updated Facility Procedures, there are many things that we have always incorporated into Cuddles Academy Childcare (cleaning, covering coughs, and hand washing). And there are additions (outside sinks, and additional cleaning).
We are working with our families to keep our group exposure limited. The families enrolled at Cuddles Academy are in agreement to continue to be mindful of social distancing and are staying aware that an exposure to one household could effect other members of our group.
Scroll though this page for descriptions and pictures of what's been added to our environment.
During care, social distancing is being encouraged, but we are above all remaining mindful of the needs and development of the children. For example, children are encouraged to play with toys that are in separate areas from others: "Look at the truck you can play with over here until your friend is done with the trains." But the children are not being told "don't share" or "no helping." I feel that teaching the children "no" to interacting with their peers is too far.
Instead, when children choose the same area of play, multiple items are available so that "you can have the red train, and I can have the blue train." Notice this is a division created by the adult that is less noticeable, less intrusive, to the children's play and learning. And toys are rotated out of the play area frequently for disinfecting. This creates a situation where the item just happens to be put in the cleaning bin for later, making it so there is no need to say "no, you can't play with the toy your friend just had." ...and of course there are additional stops for hand washing during our day.
In this way, I'd rather take on twice the work of my being mindful to clean and separate used toys then to have a bigger more confusing adjustment for the children by having assigned toys or restricted areas of play.
Our new entry way signs remind visitors of our policies (the same info as the Facility Procedures pdf).
Our new outdoor wash stations are at the children's level to make washing easier and more comfortable.
:) they are also both a work in progress: The entry faucet holder will be upgraded soon, and the repurposed bench in our playground will be refinished.
Covid Additions to our Environment
~ State Licensing has asked that drop-off and pick-up of children happen outside. (No adult visitors inside our childcare.)
~ CA State Licensing has also given all childcare providers a decision tree that we are to follow in the event that an enrolled child (or household member of an enrolled child) exhibit symptoms of COVID-19. This will be used with our Family Health Certification.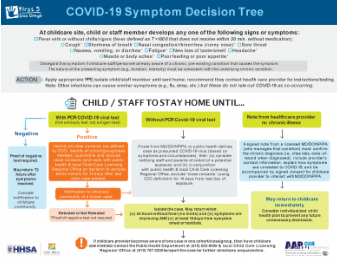 Cuddles Acadmey has continued the additional cleaning outlined in the Facility Proceedures. One adjustment is that toys are now being left in the play area rather than being disenfected after each use and children are welcome to again share everything rather than being offered separate items. This adjustment has been made as science has gained a better understanding of covid being spread primarily from droplets in the air, and not as much from surfaces.
As of mid-March, I have been vaccinated against covid. I am continuing to mask when within 6 feet of children, and am continuing to be mindful of exposures outside of care. For now, all covid addendums will remain in place regaurdless of a household's vaccination status.
11/11/2021: You will see sections marked below with a (outdated information) note. This has been such as interesting journey & I have chosen to leave the information posted to mark all of our transitions. (A timeline or journal of sorts.)
I just recieved my covid booster! (dose #3)
We are remaining mindful that our littest ones are still unvaccinated and are susceptible to covid. All covid addendums and illness policies listed above are still in effect.
Currently all covid addendums are still in place. (See PDF at top of this page.)
A survey has been emailed to all families enrolled in our program. With thier feedback taken into concideration, adjustments have been made to our covid addendums.